Customised application development
Project consultancy and development
At CTI Soluciones, we have a team of specialists that focuses on developing customised IT applications that aim to optimise the operating of your organisation.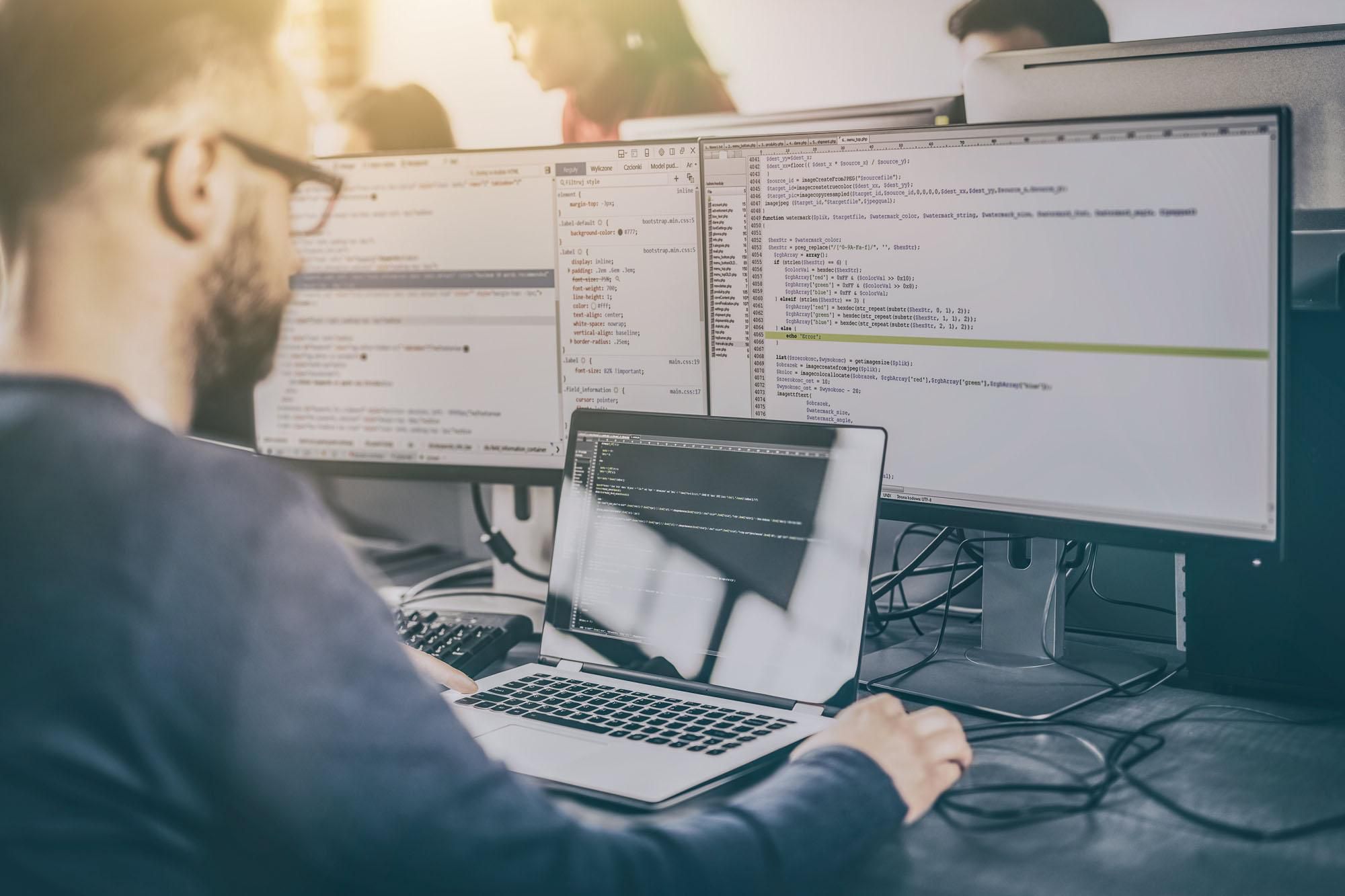 The members of our team are experts on technology development, particularly regarding web environments.
As such, we apply engineering knowledge to software production to ensure that the creation process of IT applications is documented and can be easily reproduced at a predictable price.
Within its extensive experience of working with financial institutions and companies, CTI Solutions has carried out many projects, which allows it to have a global analytical and diagnostical vision of how to establish and undertake them.
Therefore, in our capacity as a technological partner, we focus on the particular case of each business, helping our clients to stand out in their sector.
Would you like to set up a meeting to obtain more information?
Our sales team will contact you
Privacy Policy
Privacy policy
PLEASE READ THE INFORMATION BELOW CAREFULLY
Pursuant to the General Data Protection Regulation (GDPR), Organic Law 3/2018, of 5 December, on personal data protection and guarantee of digital rights, and Law 34/2002, of 11 July, on the information society services and e-commerce, we inform you the following:
WHO IS THE CONTROLLER OF YOUR PERSONAL DATA?
CTI TECNOLOGÍA Y GESTIÓN, S.A. (S.M.E.) –CTI–, holder of Taxpayer ID (NIF) A28065480, with registered offices at Avenida de la Industria, 32, Alcobendas, Madrid, phone number 91 3728335, and e-mail: info@ctisoluciones.com.
Additionally, CTI has a Data Protection Officer, who may be reached at the following e-mail address: dpd@ctisoluciones.com.
The user warrants that he/she is over 16, and shall be exclusively liable for this representation and for proper access and use of the website, subject to these terms and conditions.
WHICH DATA IS PROCESSED AND FOR WHAT PURPOSE? 
When a website user requests information about some service, fills in a contact form, or subscribes to our newsletter, he/she may be providing the following personal data: name and surname of the contact person, phone and e-mail. Similarly, users' cookie and browsing data may be processed with the purpose of improving their accessibility, analysing their browsing habits and customising their experience, and showing adverts according to their interests pursuant to our cookie policy, which must be accepted as a previous step to browse our digital platform.
From our customers and providers, we request:
In case of an artificial person, name and surname of one or several contact persons (depending on their role), position at the company, corporate e-mail and contact phone.
In case of a natural person, the following data will be additionally requested: NIF (Taxpayer ID), postal address, and personal bank account data.
CTI does not gather data regarded as especially sensitive under the GDPR, such as race or ethnic origin, political opinions or philosophical or religious beliefs, trade union membership, health, sexual activity or orientation, and biometric or genetic data.
The data subject is expected to provide true, accurate, complete and updated data, and shall be exclusively liable for any damage or loss directly or indirectly caused by breach of this obligation.
GUARANTEES REGARDING THE PROVIDED DATA
The user warrants that the data provided by him/her is true, accurate, complete and updated, and shall be exclusively liable for any damage or loss directly or indirectly caused by breach of this obligation. Consequently, the user must report any change in his/her personal data to CTI for proper management, maintenance and control of the service.
If the data provided by a user belongs to a third party other than the person providing the data, the user must inform the third party about the content of this Policy and obtain their authorisation to provide their data to CTI.
The personal data collected by CTI is necessary to answer your request or execute the service agreement, and therefore, providing it is mandatory, since if such data regarded as necessary were not provided, CTI would not be able to process the user's participation in the relevant website service.
LEGAL BASIS FOR PROCESSING
Personal data is collected exclusively for the purposes specified in this Privacy Policy, and on the following legal bases:
 
Executing a contract between you and CTI or applying pre-contractual measures
Answering any request submitted by the data subject.
 CTI's legitimate interests:
Customers: CTI may conduct or distribute commercial and/or advertising actions or information, by any means, including electronic or similar means, in relation to products or services being similar to the acquired services, pursuant to Law 34/2002 on information society services (LSSI, in Spanish). You may object to such processing based on legitimate interests by following the steps detailed in the "Rights of data subjects" clause of this Privacy Policy.
Non-customers: CTI may process your contact data (as needed for professional contact), and data of individual entrepreneurs or independent professionals with the purpose of maintaining any relation with the legal entity for which the data subject works, or in case of individual entrepreneurs or independent professionals, to contact them in such capacity and not as natural persons.
-Consent: 
To subscribe to CTI's newsletter and receive both this and other commercial communications from CTI that may be of your interest.
Non-customers: To receive information and advertising on CTI products and services, by any means, including electronic or similar communications.
-Fulfilling a legal obligation
Assisting the data subject in exercise of his/her rights under Articles 15-22 of the GDPR, and processing any received request within a one-month term pursuant to the GDPR, Organic Law 3/2018, of 5 December, on personal data protection and guarantee of digital rights, and any other applicable legislation on data protection.
Disclosing information to public, regulatory or government authorities as and when required by any law, local rule or regulation.
DATA STORAGE TERM

If you are a customer, we will keep your personal data as long as our contractual relationship remains in effect and you do not request its erasure. After termination of the contract, CTI will keep your personal data blocked for the maximum legal term, which, for accounting and tax purposes, is 6 years, pursuant to Section 30 of the Commercial Code. On expiration of that term, your data will be destroyed.
Data provided by the user through forms or requests for service will be kept for 1 year since the last time the user confirms his/her interest, renewing calculation of that term on each new contact or relation with CTI. However, if the user has given his/her consent to be sent commercial information, his/her data will be kept as long as he/she does not object to it.
WITH WHOM WILL WE SHARE YOUR DATA?
We will not transfer your personal data to third parties, unless required by law.
- Service providers outside the European Economic Area (International Data Transfers - IDT). In these cases, CTI requires them to apply the necessary measures to protect personal data and, with that purpose, we use EU-approved mechanisms to carry out transfers.
Mailchimp: company located in USA that operates sending electronic communications. Provides appropriate guarantees in personal data transfers, thanks to the inclusion of standard data protection clauses on its data processor contract.
RIGHTS OF DATA SUBJECTS
The user may exercise the rights of access, rectification, erasure, restriction of processing, objection and/or portability with regard to the personal data provided to CTI.
He/She may also revoke his/her consent at any time. However, please be aware that after honouring your revocation request, we will still be able to contact you whenever necessary to fulfil our legal obligations, or else perform the contract you may have with us.
To correctly exercise your rights, please send your request together with a copy of your National ID (DNI) or equivalent official document as proof of your identity, writing to: CTI Tecnología y Gestión S.A. (S.M.E.) Avda. Industria, 32, 28108 Alcobendas (Madrid), or by e-mail to: dpd@ctisoluciones.com.
COMPLAINTS
If you think we have not handled your personal data in compliance with the laws, you may contact the Data Protection Officer by e-mail to: dpd@ctisoluciones.com – Subject: Reclamación Protección de Datos (Data Protection Complaint).
Additionally, you may obtain more information on your rights, and even file a formal complaint, at the Spanish Data Protection Agency (AEPD, in Spanish), located at C/Jorge Juan, 6, 28001, Madrid (www.aepd.es).